A couple of weeks ago, we had the opportunity to take a field trip to Massachusetts. We took advantage of this moment to feed our ongoing obsession with the town of Lowell, MA.


BOOM, BUST, AND BOOM

While Lowell's modern reputation hasn't always been a gilded one, its status as the cradle of the American industrial revolution and a hotbed of early labor activism is uncontested. The story of Lowell is that of a town perpetually on the make--a tale of riches and rags...and rags to riches. There may be no place that better exemplifies the boom-bust cycle of modern capitalism, and the tale began (as it often does) with a small group of men with ambitious goals and a vision...in this case for the American textile industry.



Planned and developed as the original American industrial city, Lowell's site was chosen to capitalize off the forces of the mighty Merrimack River. It was the river that was needed to drive the looms, and so it was geography and a search for power that determined the setting for this story.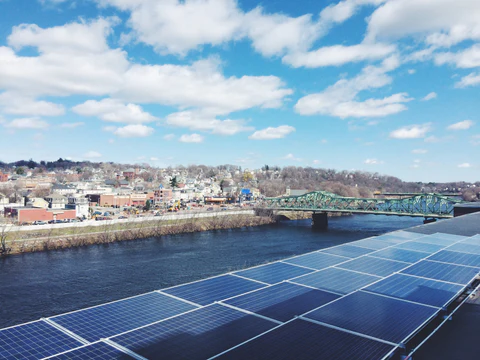 FRANCIS CABOT LOWELL, INDUSTRIAL SPY?

Even before the foundations were laid and the young female workers began to flow in from towns throughout New England, Lowell's genesis began with what could be described as an act of industrial espionage. The legend goes that an enterprising businessman and merchant named Francis Cabot Lowell, while on an extended stay in England, became interested in the textile industries of Lancashire--specifically, their water-powered looms. At the time, England prohibited export of that particular technology and so Lowell memorized the blueprints, and returned to the United States to replicate and improve what he'd observed.



With the help of a skilled machinist named Paul Moody, Lowell successfully developed and patented a new version of the power loom, and, with the financial backing of the Boston Manufacturing Company, built a mill in Waltham, MA, on the banks of the Charles River. It was only later, after Francis Cabot Lowell had passed away from pneumonia at the age of 42, and after the Waltham Mill had exhausted the power of the Charles River, that the ambitious men of the Boston Manufacturing company set their sights on the Merrimack River, founding a mill town, but not just a normal town, a planned manufacturing center, and ultimately a major industrial city, which they would call Lowell, in honor of the inventor of their most important machine.




SOUTHERN CONNECTION
While on the one hand, the story of Lowell is one of can-do entrepreneurship and enormous economic success, there is, as in many stories of American enterprise, a dark side as well. The cotton that flowed into Lowell, the raw material that was spun into thread and woven steadily by Lowell's power looms was Southern cotton, picked by the hands of slaves and in some cases sold back to plantation owners in the South, for clothing those very same laborers. Therein may be the secret to the remarkable profits gained by the Boston Manufacturing Company, for free labor (and a captive consumer) is no small advantage in the markets of industrial enterprise. And so, Lowell's success was deeply entwined with the ugly institution of slavery in many ways, both simple and complicated. Note: if you're interested in this aspect of Lowell's story, read the book Empire of Cotton, a book we can't recommend enough for those curious about cotton and it's role in empire building.
WOMEN OF THE LOOM
The Lowell factories also benefited heavily from the accessibility of local (female) labor--known commonly today as the "Mill Girls." In the early years, factory work was seen as a way toward independence and an escape from an impoverished life as a country farm girl. Many of the mill girls had some education and high expectations for their lives, and as factory conditions deteriorated, they began to organize and speak out for their rights. Ultimately, labor activism among the mill workers of Lowell resulted in protests, strikes, and the formation of the nation's first union of women workers, the Lowell Female Labor Reform Association.
Photo Credit:
Wikimedia
Nowadays, the ghosts of Lowell's Mill Girls rub shoulders with well-dressed young professionals on the make, robotics engineers in
high-tech coworking spaces
, and
artists
and visionaries well-prepared to write the next chapter in Lowell's uncommon history (more on this in Part 2 of the article).
LOWELL TEXTILE HISTORY DESTINATIONS

If you're a textile buff like we are, there are two obvious destinations in Lowell--the Boott Cotton Mills Museum and the American Textile History Museum. Regrettably, the Textile History Museum was temporarily closed, but we more than made up for that with a couple visits to the Boott.
If you visit the Boott, you can't miss the massive Weave Room, featuring ninety Draper Model E power looms, making a totally authentic racket. Undoubtedly this is the only National Park site that offers free earplugs upon arrival. Depending on what day you visit, there will be anywhere from one to many looms in production, weaving fabric for tea towels that are sold in the adjoining gift shop.

Denim Nerd Alert: For those of you denim heads interested in the technical aspects of these machines, these looms differ from the Draper X3 shuttle looms used to make selvage denim in North Carolina's iconic Cone Mills. While similar in many ways, Lowell's looms are lighter weight and better suited for weaving lighter fabrics.

We were curious about the structural differences, so we reached out to Rick Randall, Exhibit Manager at the Boott. His response: "Model "E" looms...tend to have a hard time weaving denim and other heavy styles compared to heavier looms like the X-models. Our harness motions are spring tops and have difficulty lifting the heavy warp ends. Also, the let-off motions are not heavy duty."

In other words, not the best fit for denim, but they do make a mean tea towel...
Technical details aside, it is hard not to be moved by the energy and sheer power of these looms in production. For us, there is something really special about the tangible experience of seeing cloth woven from scratch. Want to geek out more about Draper looms? You can read more about their history, here.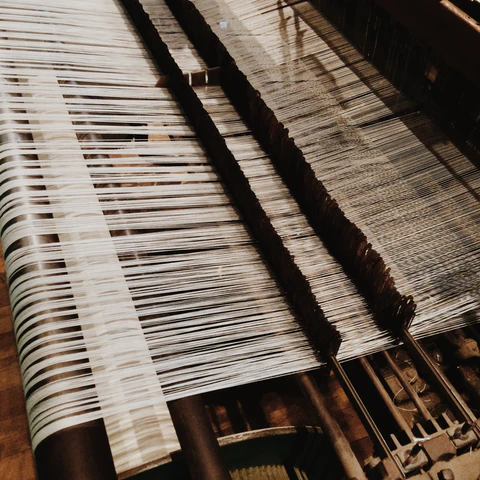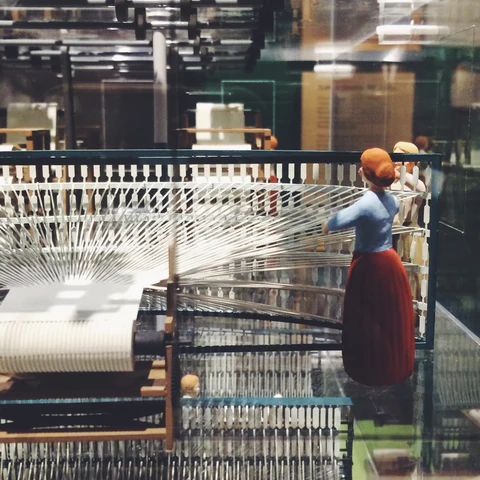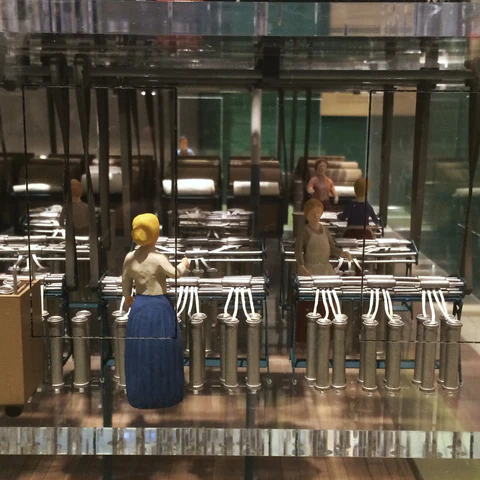 LOWELL'S DOWNTURN

Lowell's success took a pause during the years of the Civil War. Textile production decreased as cheap cotton (ie. free labor) became less accessible. Momentum was regained somewhat during the early 1900s, as waves of immigrants arrived and Lowell was able to rely on a continuing source of low-cost labor. However, after World War 1, American textile manufacturing moved South, closer to site of cotton production, and later, with globalization, across borders and overseas.

By what could be described by some as a happy twist of fate, Lowell's economic downturn was so severe that the city became virtually frozen in time. The effect translated into a long-term pause in real estate development...and so the mill buildings of Lowell remained standing--abandoned, but structurally sound.



LOOMS TO LOFTS

Today, thanks to an infusion of redevelopment grants through the state of Massachusetts, many of the mills have been transformed into tony loft-style condos for young professionals with jobs in nearby Boston. These developments retain some of the original architectural details of the mill buildings, including exposed brick walls, but the style of the spaces is less original than one might hope for in buildings marked by so much history.



There are some spaces, however, that still maintain a strong sense of the original character of this place. The brainchild of local developer Jim Lichoulas, Mill Number 5 takes a more creative and innovative approach to development. The building's fourth flour integrates the original mill floors and features storefront facades made from salvaged architectural elements from local buildings. Small businesses including a coffee shop, a bookstore, a record store, and even an indy movie theater have set up shop along the massive hallway, and Sundays feature an indoor farmer's market, something we were sad to miss out on.




Photo Credit: Addie Kugler-Lunt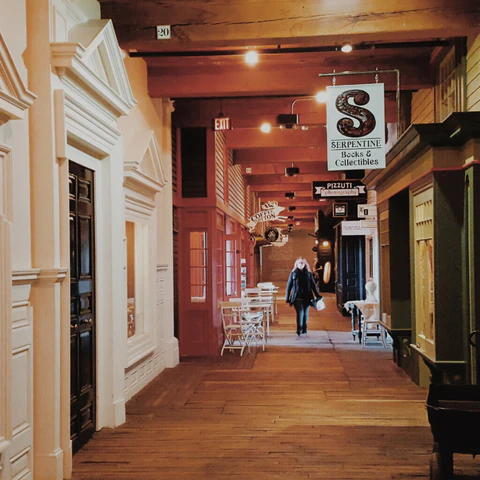 Photo Credit: Addie Kugler-Lunt
Image: Coffee and Cotton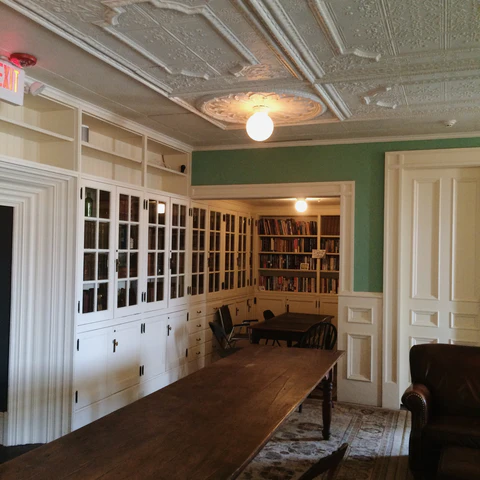 Image: Coffee and Cotton

Thanks to a tour we received from one of the tenants (more on this later), we also got to visit some areas of Mill No. 5 that are still raw. Coming from somewhere like the SF Bay area, where this kind of space is rare, we were feeling pretty smitten.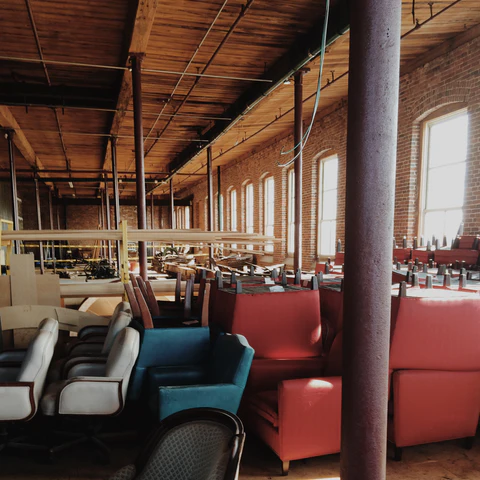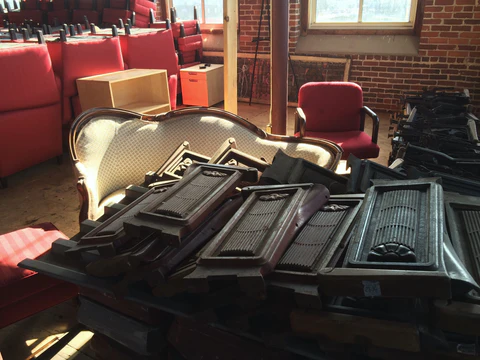 To really experience all that Lowell has to offer, you'd need at least a week. We had only two days, so we focused on the museum, the local businesses, and one especially interesting project called New Vestures, which we'll be featuring in our next blog about our trip to Lowell. Stay tuned for more...


LOWELL DESTINATIONS

Boott Cotton Mill Museum
Open daily, 9am-5pm
Location: 115 John Street Lowell, MA 01852
Phone: (978) 970-5000
Website: http://www.nps.gov/lowe/

The Lofts at Boott Mills
Website: http://www.boottmills.com

Mill No. 5 (including the Luna Theater and Coffee and Cotton)
Hours: Differ according to each business, but mostly Fridays and Weekends
Location: 250 Jackston St. Lowell, MA
Phone: (978) 656-1828


Website: http://millnumberfive.com