In the first article in this series, "Back to the Roots of American Textile Production," we explored the origins of the mill town Lowell, Massachusetts. Our second article, "Who Made Your Clothes?" covered Fashion Revolution Week and the polar concepts of fast and slow fashion. This article brings both themes together with a look at a New Vestures, a Lowell-based project that's exploring new territory around the slow fashion movement, the innovation economy, and the story of American manufacturing.

Taking a stand for a new way of doing business is not for the faint of heart. Doing so at the same time you're growing a new enterprise is work for only the courageous. Diana Coluntino, founder of New Vestures, Massachusetts' first fashion coworking space, is putting herself at the forefront of the slow fashion movement, at what may be a prime combination of timing and place.

New Vestures is a multifaceted project that brings together elements of a maker space, coworking hub, fashion school, job training program, and light manufacturing space in the top floor of Mill No. 5, one of Lowell's iconic mill buildings. The project is one of several in the Lowell region that aim to bring jobs to the community while reinterpreting and reinventing what North American manufacturing looks like in the 21st century. As a former professor from the fashion department at Mass College of Art and Design and a longtime member of Lowell's art community, Coluntino may be just the right person to take on the challenge, while helping pioneer the new frontier of slow fashion.

We had the opportunity to visit New Vestures in April, at Coluntino's invitation. She showed us around the major build-out of her new 3,000 square foot space (with room to grow), aimed at integrating the best elements of the textile mill, including exposed brick walls and wood beamed ceilings.



As the recipient of a $150,000 MassDevelopment TDI (Transformative Development Initiative) grant, New Vestures has the funding to grow a new and original enterprise in the midst of a community with a deep history of textile manufacturing. In fact, there may not be a more opportune place to found such a project than Lowell, the storied birthplace of the American industrial revolution. Walking through the halls of Mill No. 5, one can almost hear the footsteps of the young female mill workers of the 1800s, as they head to their looms for a long day of labor.

Slated to re-open in their new space in May, 2016, New Vestures will offer a variety of programs and resources, including classes for local youth, affordable space-leasing, and shared equipment for new designers and apparel startups. Coluntino is hoping that emerging designers and brands will be drawn to her location by the option to access low-cost space for design, experimentation, and small-batch production. Projects launched here also stand to benefit from the innovation-friendly communities springing up in local workspaces such as the nearby tech space UMass Lowell Innovation Hub and makerspace Lowell Makes, as well as the proximity of historically relevant places such as the American Textile History Museum and the Boott Cotton Mills Museum.


JOB TRAINING FOR NEW AMERICANS

There's another level to Coluntino's game-plan. In the program's old digs, New Vestures provided job-training services for some 30+ refugees preparing to enter the apparel industry. These trainees hailed from a variety of countries, including Myanmar, Cambodia and Iraq, and their new skills qualified them for jobs in the handful of apparel factories in the surrounding communities of the Merrimack Valley. In the new facility, in partnership with local resettlement agencies, Coluntino and her cohorts will have the capability to create a more robust refugee training program. This adds an intriguing chapter to the story of Lowell's textile mills, and what it means to get ahead in blue collar America.



Coluntino's project has attracted funding and some mainstream publicity because of her location in what is known in Massachusetts as a gateway city. Gateway cities are identified by the Office of Housing and Economic Development as smaller-sized cities where the median household income and degree attainment are below statewide averages. As a community with what has been described for many years as a depressed economy, Lowell has been identified as fertile ground for development assistance, much of which is designed to jumpstart what's known as the new innovation economy.



#FUTUREFASHION

Just what the trajectory for slow fashion and apparel manufacturing in the United States will be, remains to be seen. It seems not a day goes by without a cheerfully optimistic piece of journalism about the yearned-for rebirth of American manufacturing. However, though some companies' success seems promising, just what form this new American industrial revolution will take, especially in the smaller working-class towns of Massachusetts, is yet undetermined.

Some have proposed that the sweet spot will be for manufacturers to focus on niche products, craftsmanship, and customization--options that are not easily available when brands produce overseas. Others look towards agile manufacturing, rapid prototyping, and the potential role of robotics and 3D printing as key to future mass production. For others, the inflection point is the environment and the vision is green, with banks of solar panels, upcycled textiles, and reclaimed materials.



In reality, the solution may be a hybrid version of these different ideas, and the proof of concept will be born through messy experimentation. This will most likely take place in maker labs and coworking spaces, where creative minds are free to imagine a different future and explore new scenarios and solutions. It remains to be seen, but Coluntino and her team at New Vestures may really be onto something.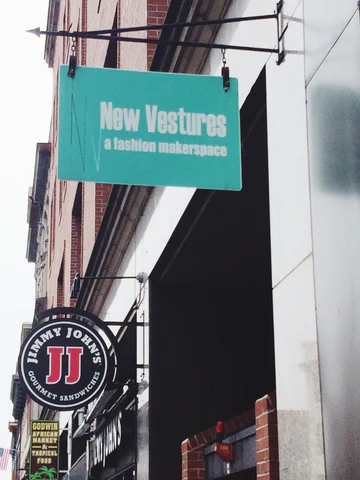 Photo: The sign from the frontage of New Vestures' previous location,
before moving into Mill No. 5.